This section will hopefully answer all or most of your questions regarding our Shop, Payments and technical details.

General technical details

Supported font formats:
Since October 2010 ARS Type produces and supports typefaces in the OpenType format only. OpenType is a new cross-platform font format. It enables fonts to contain a large number of characters, providing advanced typographic features and can be used on both Macintosh and Windows computers (refer to your software manual regarding OpenType support). While we are busy updating our entire library to the OpenType format, the old formats Postscript Type-1 and TrueType will no longer be supported.
You may upgrade to the OpenType format till March 2011 and gain full support for future upgrades and free updates. Contact ARS Type for details.
ARS Type fonts will be available in either or both of these two different versions:
OpenType Basic; covers an Extended Latin character set. Contains one set of numerals only (normally tabular lining figures) and no OpenType features.
OpenType Pro; covers an Extended Latin character set and contains different numerals and other OpenType features.
Each typeface download packaPlease note that these new fonts might perform slightly different from the old formats. When opening documents using the old formats, be aware that changes in layout might occur.
Installing your fonts

After you download and unpack the .zip file, follow these instructions:
on Mac OS X
First please follow the instructions found here: http://support.apple.com/kb/HT2435 .
There are different third party font management applications available who claim to help you with that — some quite good and others producing varied results. However, we recommend installing the fonts in the top-level library where they can be accessed by all of a workstation's users, rather than an individual user's Fonts folder, as our license applies to the workstation rather than the user. We also recommend installing the fonts directly in the Fonts folder as detailed in this support article, rather than using FontBook.
on Windows 8
Please follow the instructions found here: http://windows.microsoft.com/en-us/windows-vista/install-or-uninstall-fonts
on Windows NT, 2000, and XP
Please follow the instructions found here: https://www.microsoft.com/resources/documentation/windows/xp/all/proddocs/en-us/windows_fonts_addnew.mspx?mfr=true
on Windows Vista and 7
Please follow the instructions found here: http://www.microsoft.com/typography/TrueTypeInstall.mspx
If you do use a third party font management system, please follow the instructions that came with it.

Information about Payments

Acceptable payment methods
We gladly accept all the major Credit Cards or regular bank account/Giro payments all through PayPal.
Also for purchases within the Netherlands that use a Giro account, we recommend processing the payment through PayPal in order to acquire a purchase/transaction code that will later will be useful for upgrades & updates. If you still rather pay directly to our Giro account, please send us an email and we'll gladly help you from there.
How secure is the ARS Type store?
Our store uses PayPal for payments, and PayPal automatically encrypts your confidential information in transit from your computer to ours using the Secure Sockets Layer protocol (SSL) with an encryption key length of 128-bits (the highest level commercially available).
Do I need a PayPal account to purchase from this store?
You are not required to have a PayPal account to purchase from this store. You can just follow the instructions on the PayPal page to complete your order. Although if you already have a PayPal account please use it.
VAT (Tax)
As a company registered in the Netherlands, ARS Type is obligated to charge Value Added Tax (VAT) on our sales and services within the European Union (EU). The VAT will be added to the total amount in the Checkout page. Companies residing in the EU with a registered VAT number can reclaim the VAT in their own country. If your billing address is outside of the EU, we don't charge the VAT. The Checkout page is where you'll be able to review all those details (the amount of tax and the price before and after tax).

Your Account

After Registering to our website and logging in, you'll have access to your own private page on our website called 'Your Account'. In this page you'll see 3 links with which you'll be able to review your purchase history, view and change/update your Billing details and the page with the download links to the .zip files of your purchased fonts. There's a limit to the amount of times you can download your font packages, so don't be "trigger-happy"! Make sure you keep a copy of your purchased font(s) archived safely. You can access Your Account at all times either while in the Shop or through the top right corner next to your Avatar. According to your purchase history you'll be eligible for discounts when upgrading your purchased items, either to a fuller package or an upgraded license. You'll be also eligible for free version updates we might be doing to our Typefaces in the future. You'll be notified once such update is available, so please keep your contact details up to date with your most current email.

Using our online Shop

Buy fonts/Products page:
When in this page you can view all our fonts and available packages, choose your type of license and add products to your Cart. The Font Package container includes several elements that are pretty self-explanatory, but here's a run-through all the elements and what they mean.
Font Package name with a short description.
Best Value indication: out of the different available packages from each Font family, the Complete set are priced with a significant discount – usually 20% or more! For example, out of all the packages available for ARS Maquette — ARS Maquette Pro Complete offers the Best Value, considering it's price and the available weights, styles, OpenType features and so on.
Representation of the available OpenType features in the specific Font package
This drop-down list is where you chose the type of Multi-User license for each Font Package according to the number of Workstations in your company/studio.
The total Price calculated automatically according to the type of License you chose. This Price is before applicable VAT (Tax).
A quick representation of all the styles and weights included in each Font Package.
The plus [+] indicates that this Font Package is either a Pro version or including OpenType features. Otherwise it will mean that it's a Basic OpenType font without any features.
Clicking on the 'More Details' expands the container open to reveal a more detailed list of all the available styles and weights in the Font Package.
The Checkout page:
After adding font(s) into the Cart you can go to the Checkout page to review your order before completing your purchase. You'll see a list of the Fonts Packages in your cart with the license type, the price of each package, the amount of VAT(Tax) if an EU country and the SubTotal amount. You'll can of course remove some or all packages from the chart. The fields below are where you fill in your Billing details. When clicking 'Make Purchase' you'll be transferred to PayPal where you'll be able to safely and securely complete your Purchase.
Quantity = number of Locations
Another important element in the Checkout page is the Quantity fields. As stated in our License Agreement, the price of each Font Package (regardless the amount of workstations you specified for it), is applicable to a Single location. If your company has more than one (1) offices in separate locations, the Quantity field is where you can specify the number of Locations/Sites you intend to order each Font Package for, considering they fit the License you've chosen for that specific Package.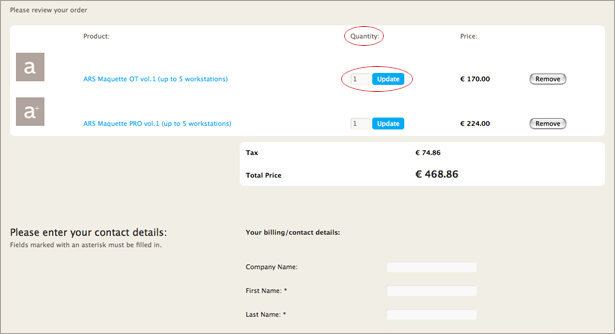 For example, if your company resides in 5 different locations and you want to purchase the same font for all 5 locations — and to complicate matters even further, let's say 2 of those locations are with up to 5 workstations and the other 3 locations with up to 25 workstations. That means you'll have to add that Font Package to the Cart twice; once with the License to up to 5 workstations, and then a second time with the License to up to 25 workstations. Then by going to Checkout you'll see that they appear as two separate products — one for 5 workstations and the other for 25. Now in the first Quantity field you fill in 2 and click Update: you'll notice the amounts have updated themselves. Then fill in 3 in the second field and click Update again and voila! You'll notice all the amounts are updated accordingly and you are now ready to complete your purchase. Simple enough, isn't it?
For companies or agencies with many locations around the world, we also offer and suggest a Worldwide license that offers a substantial discount. For more information about this please contact ARS Type with your requirements and we'll gladly come up with a suitable package deal.
Of course, if you intend to purchase the font for a Single location, you can leave it as it is (at 1).